The main hall is a medium-sized,
bright, airy, well-lit, multi-purpose
instruction room with an integrated
modern kitchen. Depending on the
configuration, the space can
accommodate lecture-style
instruction, encourage interaction
through small group discussions or
be used for recreational exercise
classes.
Furthermore, it has a pull-down
projector screen, charging points
for USB devices, and a stoned
parking area. There is also a grassed
space for outdoor use during
warmer months as a breakout
space, exercise or relaxation breaks.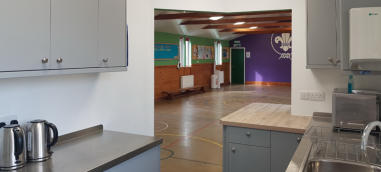 Mendip Scout Base
Mendip Scout Base is the home of
Wedmore Scout Group


: enquiries@mendip-scout-base.org
Where to find us:
Combe Lane
Wedmore
Somerset BS28 4DY
In Wedmore, take the Wells Road (B3139 ) past the
New Inn and up to the brow of the hill. Turn left into
Combe Lane (unmade lane) - Mendip Scout Base is
the second turning on the right.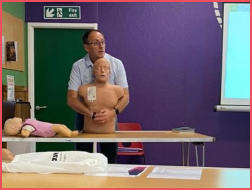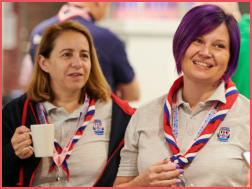 A variety of interactive lecture-
style instructional sessions, as well
as small break-out groups to
practice new techniques
Yoga, Pilates and similar floor
exercises in peaceful surroundings,
as well as general keep-fit and
comparable exercise classes
Training sessions and workshops for
Scout Leaders and other volunteers
to provide them with the knowledge
and skills to establish team-working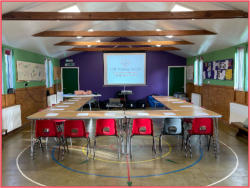 F
ormal meetings and discussions,
group training sessions and
workshops, as well as chat groups
to develop ideas and events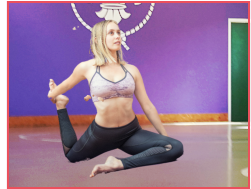 The main training space is a
bright, airy, well-lit, multi-
purpose instruction room
with an integrated modern
kitchen to provide
refreshments/lunch.
Depending on the
configuration, the space
can accommodate lecture-
style instruction, small
group discussions or be
used for recreational
exercise classes.
Furthermore, it has:
•
A flexible room layout with
plenty of space to move
around
•
Good room lighting with
plenty of sunlight with
blinds if required
•
Plenty of power points
•
Pull-down projector screen
•
Gopack tables and stacking
chairs
•
Wall space for hanging flip
charts
•
Modern kitchen with
tea/coffee/water facilities
available anytime
•
Participant breakout spaces
– inside and outside spaces
•
Coat space for participants'
belongings
•
Emergency lighting
•
Charging points for USB
devices
•
Stoned floodlight parking
area
Hire fees
The general hourly rate is £25.00 for a
morning, afternoon or evening session. The
rate for a one-hour activity session,
including setting up and packing up time on
each side of the session, is £12:00.
These rate include central heating when
required, lighting and power, use of the
kitchen and toilet facilities, the provision of
hot water and the use of the outdoor space.
Mendip Scout Base is available for letting
during the day and on some evenings during
school term and may be available at other
times depending on the booking schedule.
It is usually available during school holiday
periods and for the weekend and midweek
use, as well as at the weekend, but only if it is
convenient for the Wedmore Scout Group.
Making a booking
The Base's
"Standard Conditions of Hire"
applies to all bookings, and the booking
must be confirmed using the
"Booking Form
& Hire Agreement"

.
If the date you require is free, please
download and complete a Booking Form
(see above) and forward it by email to -
enquiries@mendip-scout-base.org
You will receive an acknowledgement and,
before the event, an invoice for your period
of hire. The invoice contains details for
making your payment. If this is received, the
reservation will stay active.
Users' responsibilities
Users must respect the property's condition
and grounds and leave them in the same
state of cleanliness and tidiness as they
found them in - or better!
Users should also consider nearby
properties, the surrounding fields and the
countryside. Breakages, damage or
additional cleaning that is needed will be
invoiced separately.
Rubbish & waste arising from the use of
the facilities must be taken away by the
hirer.